Newick is north of Lewes, inland between Brighton and Eastborne. This is a link to Google maps. You can see from the photos on Google that it is now typical of many areas in the south east with modern urban housing expansion, but when my ancesters were living there it would have been quite rural. If you zoom in and use Street View to take a trip from The Royal Oak to Western Road, apart from the lorries you still get some sense of the original village with its leafy lanes. There is short article on Wikipedia
I am descended from George Gibson Weston (1797 - 1878) who was born in Newick but moved to Clewer, near Windsor. There are several sub branches of us descended from him as they had large families in those days. I am still researching the Westons of Newick, it isn't easy once you get back before 1800. As I discover where people lived I hope to make a map with anotated pins to show the locations. This will be an on going project, but here is the empty map to start with.
These maps are from >© OpenStreetMap contributors and so subject to their terms. You can click the image for a larger version, use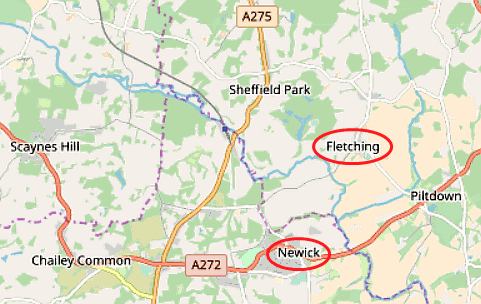 your browser's back button to return here. I may have to change the map if I find ancestors living in the outlying areas. I have some ancestors from the neighbouring village of Fletching, so I have added another page.